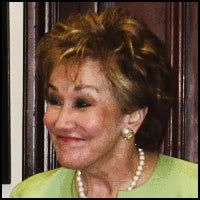 North Carolina Senator, Republican Elizabeth Dole, offered an amendment to HIV/AIDS Legislation that was on the floor of the U.S. Senate to honor her anti-LGBT and anti-HIV/AIDS predecessor, Republican Jesse Helms, adding the recently deceased bigot's name to the "Tom Lantos and Henry J. Hyde United States Global Leadership Against HIV/AIDS, Tuberculosis, and Malaria Reauthorization Act of 2008."
Due to Helms bigotry and action, thousands of people died from HIV/AIDS and this former head of the Red Cross wanted to honor him by this?!
As
JoeMyGod
so succinctly put it:
"Jesse Helms, the man who in 1987 described AIDS prevention literature as 'so obscene, so revolting, I may throw up.'
"Jesse Helms, the man who in 1988 vigorously opposed the Kennedy-Hatch AIDS research bill, saying, 'There is not one single case of AIDS in this country that cannot be traced in origin to sodomy.'
"Jesse Helms, the man who in 1995 said (in opposition to refunding the Ryan White Act) that the government should spend less on people with AIDS because they got sick due to their 'deliberate, disgusting, revolting conduct.'"
...Many people hold Ronald Reagan responsible for adding to the early AIDS death toll by his inaction on the pandemic, but it was Helms' actions in thwarting early research that inarguably hastened the demise of many thousands of Americans.
Fortunately Dole's lame-brained amendment was defeated and frankly so should she. If you can, give to her opponent, Democrat
Kay Hagan
.
Dole made Countdown's worst person of the world list.