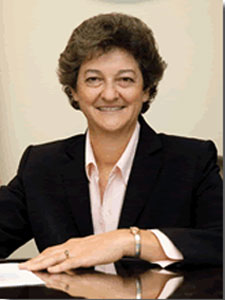 (Paula Aboud is an out, proud activist and state Senator for Legislative District 28, located in central Tucson. Aboud penned the following oped which ran in today's (November 10) edition of the
Tucson Citizen
.)
Arizonans voted last week to enshrine discrimination of a minority into our state's constitution.
Same-sex marriage already was not legal in our state. Yet nearly $8 million was spent gaining the passage of Proposition 102.
What has this fortune bought? And what does Arizona have in store for itself now that it joins 12 other states in this dubious distinction?
Judging by the national anti-gay movement's history, there is still a long road ahead of us.
The state of Maine has been locked in anti-gay ballot initiatives time and again over the past 17 years, even though its Legislature passed anti-gay discrimination laws years ago.
Michigan Gov. Jennifer Granholm opposed a similar marriage initiative in her state because she feared its passage had the potential to take away domestic partner benefits, which have been recognized by Fortune 500 companies as critical tools to attract and retain a world-class work force.
This fear came to fruition; Michigan is now locked in a Supreme Court challenge to deny domestic partner benefits to all citizens of the state.
While Arizonans may hope the same situation won't befall our state, the fact that the state's anti-gay group tried to eliminate domestic partner benefits via a ballot initiative in 2006 indicates we're on the list for a similar court challenge.
Arizona is in a desperate financial hole. Several important studies have shown that other states that have passed anti-marriage initiatives will suffer varying degrees of economic loss from the ban on same-sex marriages.
For example, professors at the University of California-Los Angeles, using the best data available to conduct a study, estimated California's economic loss to be approximately $63.8 million over three years.
Arizona's state universities have informed the Legislature that the loss of domestic partner benefits is one more way they are limited in their ability to compete for the best and brightest professors.
In addition, the state's reputation for being intolerant to diversity will cost us lucrative corporate business opportunities and professionals seeking quality of life as a criteria for relocating to Arizona.
How will this state's tourism industry be affected by the intolerance we've enshrined in our constitution? Only time will tell.
Proposition 102 will not stop gay people from falling in love. Its passage will not stop gay couples from having children and sharing their lives together.
What Proposition 102 will do is prohibit same-sex couples and their children from ever having the protections to which they're rightfully entitled: hospital visitation rights, pension benefits, health insurance coverage and inheritance rights, to name just a few of the 1,000-plus federal benefits heterosexual couples have that are not afforded to the gay community.
Proposition 102 will also drive a wedge between families, forcing couples to leave their home state or forgo the essential protections and equal social status afforded by civil marriage.
Proposition 102 will also have a harmful economic impact on Arizona and trigger cultural strife at a time when we desperately need to come together to battle the bigger social and economic ills facing the state and the country.
In these hard economic times, for a state that is $1.2 billion in debt, every dollar counts.
But what Arizona has lost is far greater than the mere dollar. It has tarnished its reputation and doomed itself to another national spotlight of negative proportions. And that harms all of us for a long time to come.